Meet Piyalee Chatterjee Ghosh, A Woman Creating Identity In Aviation Industry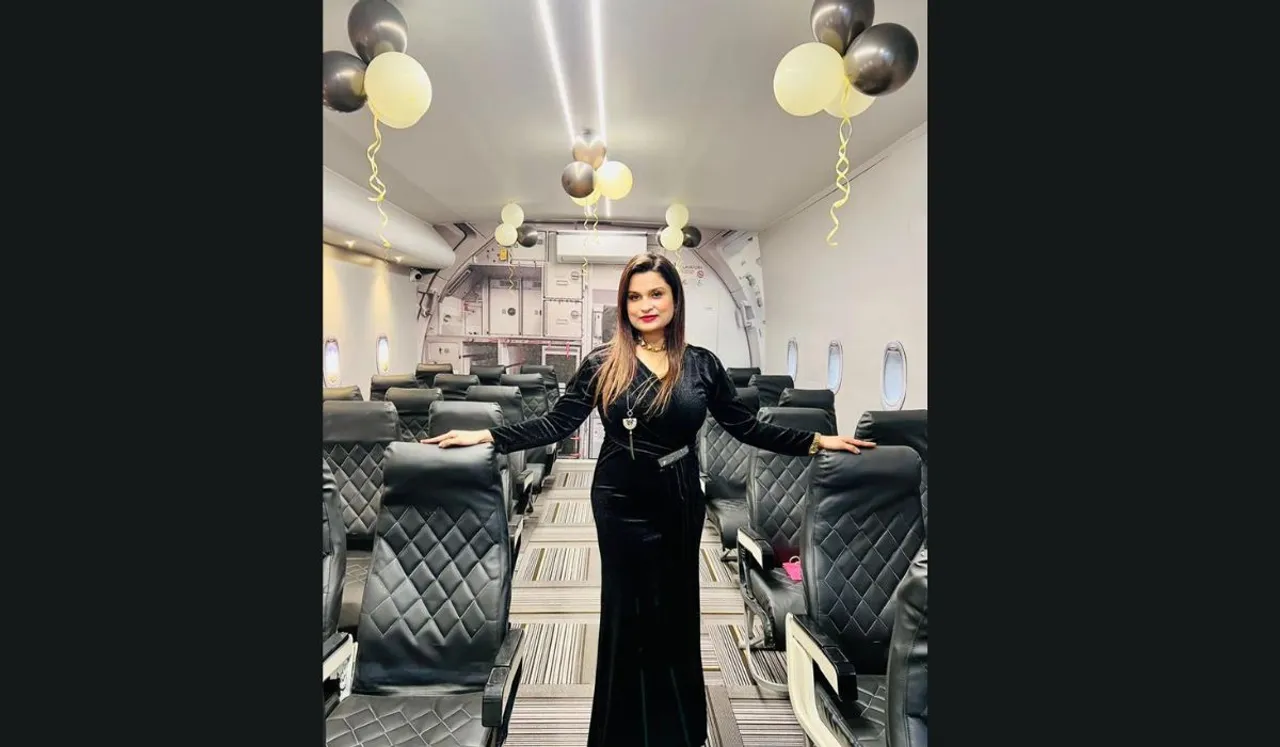 In the conversation with SheThePeople, Ghosh spoke about her journey from a flight attendant to an entrepreneur. She highlighted why it is important to have structured training for aspirants. She also touched on incidents that took place on flight one where passengers misbehaved with the air hostess.
"The journey has been an incredible part of my life. Being a flight attendant did not happen all of sudden, while in school I dreamt about It. My relatives and cousins used to travel a lot and told nice stories about flight attendants. And that's it, it became a definite plan. In those days, it looked like a high-profile job, a kinda red carpet thing. Daughters of big families like Godrej were the flight attendants so it was fascinating. My dream airline was Sahara Airlines to fly for. I did a small course to become a flight attendant. I gave my first interview at age of 19. The salary was great and there was no looking back, for nine years straight I did the same, I love y job and was super satisfied with it", said Ghosh on how her journey started.
However, Ghosh after so many years wanted more, wanted promotions, to climb the ladder, hierarchy of the career. That is how training came her way. But as the airline wanted her to relocate, she couldn't and dropped the offer. But there was more good to it, National Skill Development Corporation Aerospace came her way and encouraged to start a training institution they can partner with. So the training and placement could be implemented successfully. She opened the first institution in Bangalore.
The series of small incidents inspired Ghosh to start the institution. During her time as a senior flight attendant, she came across attendants who lacked basic knowledge of geography, companies, airports, and more. Ghosh identified the gap that there is a need for a structured way of training and development to impart knowledge.
Ghosh exclaimed, "We realised training was the need of the hour as aviation study and knowledge were never taken so seriously before. With the institution, we were able to bring in a formal structure pattern of studying and gaining skills. Manpower is a pillar of the industry, and if that turns out to be unskilled then the industry will collapse. For instance downfall of jet airways, kingfisher. It is been 9 years of entrepreneurship and with a few rainy days the journey still has been interesting."
Ghosh had her share of challenges too, but with her family and friends being supportive of her decisions, it was easygoing. But there have been days when Ghosh felt like giving up. There were times when rent was a big issue, and major events in the country like Covid, GST, and Demonetisation also made her struggle. But still, Ghosh made it!
Ghosh has been working for over two decades and is familiar with what goes on in the industry. She has a fair idea of what it is to be a flight attendant and an entrepreneur. SheThePeople asked her about recent incidents on the flight. Ghosh said, "As a flight attendant I will sympathise with the crew member. But being on the other side of the table as an entrepreneur or trainer, I would like to reach out airline company and tell them this is not the way to go forward. We are here to give a hassle-free experience and support the passengers. There might be so many first-time flyers coming from small towns, with no exposure to the premium experience, so it is our duty as a cabin crew to sympathise with them."
Further added, "No one can make you feel humiliated unless you allow them to. Our job is to build good repo right from the first moment. There is a chance of getting humiliated but it is on the person how to change the circumstances."
Woman In Aviation Industry
On women creating space in the aviation industry, Ghosh said, "Women are breaking the bars in aviation. Women are welcome. 50-60% of the workforce is women in the aviation industry. It won't be wrong to say that women run the show in the travel industry but we lacked policies that incorporated women. During my time there were no maternity leaves, they just assured me of my job. Earlier, policies for women were not in place. Today, the aviation industry has good policies when it comes to maternity, child care, and more. That is empowerment."
For Ghosh every day is a milestone, She said, "When you see your students getting placed, it is an achievement. When the former students get promoted to managerial positions, it is a milestone and that defines the success rate of my company."
The future for Myfledge Group of Institutes looks like an expansion to more cities. For now, they have 9 centers, planning to add more 4 to 5 centers, Kathmandu and Kerala could be the next destinations. The institute has also looked forward to launching two new verticals Fledge Institute of Hotel Management Catering and Fledge Institute of Mass Communication. It has also set goals to get over 1000+ of its students recruited by top aviation and travel companies in the coming quarter this year 2023.
According to Ghosh, women should keep taking challenges. She asked women to make the best out of what they have, Keep elevating every day. Whatever is provided respect that and stop crying about what is not given. If you are privileged then there is no limit to it, work more hard to make things better for yourself.